Letter to Parents and Patrons: Updated 3/19/2020 Click Here
Nemo Vista School District, Letter from the Superintendent: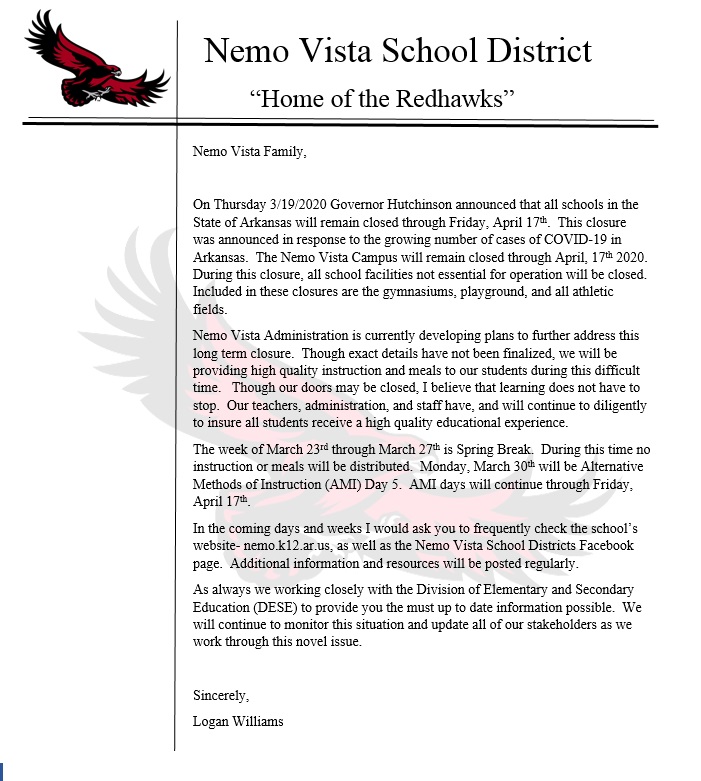 Letter From 3/16/2020

Nemo Vista Family,

On Sunday, March 15th 2020 Governor Hutchinson announced that all schools in the state will be closed effective Tuesday, March 17th. Nemo Vista will remain closed until Monday, March 30th, and at that time normal classes will resume, unless we are instructed otherwise.
Beginning Tuesday, March 17th through Friday, March 20th, Nemo Vista will utilize Alternative Methods of Instruction (AMI) Days 1-4. Students will be expected to complete all work included in days 1-4 of their AMI packets. Completed AMI work will be expected to be turned in on March 30th 2020.
During this closure, all school facilities not essential for operation will be closed. Included in these closures are the gymnasiums, playground, and all athletic fields. The closed campus will extend through March 30th 2020, with only essential personnel on campus during the closure. Extracurricular activities, including practices will be suspended through March 30th. In addition we would like to advice that students and families follow the CDC's recommendations for "social distancing" during this closure.
The Nemo Vista School District will continue to work diligently to keep our parents and patrons informed during this difficult time. During this extended closure Nemo Vista will continue to communicate with parents and patrons through Facebook, the District's website-nemo.k12.ar.us, and Remind101. Thank you for your continued patience and support as we work through this unique situation.

Sincerely,

Logan Williams