Working...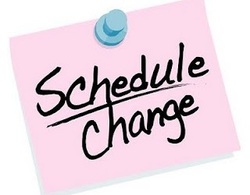 schedule change form.docx
complete the online form here: https://forms.gle/7PwZ6Ro4RjcDBQy4A
Students wishing to make a schedule change need to complete the form and gain the appropriate signatures.
It is recommended that students evaluate their graduation plan with the counselor before making a request.
Approval is at the discretion of the principal and/or teacher.
Most changes require a parent signature.
Students have one week after schedules are issued at the beginning of the school year to submit their request.
Requests for second semester must be submitted before Christmas break.