High School Informaiton
The following information is provided to keep High School Students up-to-date. This year is passing by quickly and graduation will be here soon!
ATTENTION STUDENTS!!
UACCM's annual Information Session is quickly approaching! This year it is on Saturday, March 10 th! This will be a great time for prospective students and their families to see the campus, meet with instructors in their area of interest, and speak with financial aid/admissions. We hope to see several of our students there!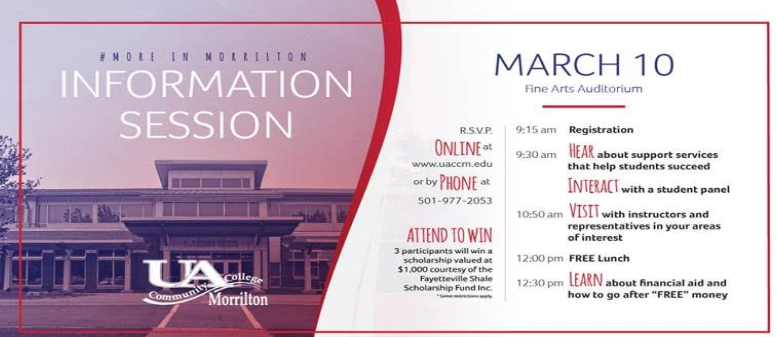 FFA- FFA is selling t-shirts. Order forms available in the office.

10 th Grade- Class Dues need to be paid ASAP. There is a list on the wall in the hallway of names.
Please check and see if you have paid. The last time I looked there are LOTS of students that still
have not paid. Please see Mrs. Cunningham and take care of this.

UACCM concurrent/Fall -students interested in enrolling need to attend informational meeting on
Feb. 28 @5:30. They will receive all necessary paperwork and all completed paperwork must be
returned to Riedmueller by Tuesday, March 13

Attention: Lawana Lyon will be here March 15 during X-period to share NEW updates with "School
Counts" for students who might be interested in registering for the UACCM concurrent program. If you
are thinking about taking classes at UACCM, you definitely need to hear what she has to say about
free money you could get to pay for it!!!

Prom Sign up is now in the office. Cost is $10 per person. The deadline to sign up is March 7 th . If
you are bringing a date you must sign them up also. YOU MUST PAY BY MARCH 7 th!!

SENIORS- Farm Bureau Scholarship is now available in the counselor's office.
SENIORS- Morrilton Medical Clinic, and Koontz "scholarships are now available in the counselor office.
SR- Concurrent Students @UACCM who plan to enroll there in the fall must reapply as a freshmen. Complete a new application and let Mrs. Riedmueller know.

Attention Juniors- Statewide ACT will be given on February 27 th - if you wish to opt out of a college
reportable ACT- then pick up a refusal form from Mrs. Riedmueller.
JR's- Explore UALR- February 24 th - register online @ http://uarl.edu.admissions/junior vip Attention JR's- Class dues must be paid by March 5 th . See Mrs. Loyd.

SR's- Experience UALR- attend classes, free food and tickets to basketball game that night on Feb 1
and Feb 22- register online @ http://uarl.edu/admissions/experience

TRACK- Anyone interested in participating in Track this spring? Deadline for signups will be next
Friday, February 23